ACCENTS HALF LASH COLLECTION BY ANDREA

Accents Lashes by Andrea will transform and enhance your eyes with fun and flirty eyelashes. These half eyelashes (baby eyelashes) are shorter than a typical strip lash and are to be used on the outer corners of the eyes for an Audrey Hepburn look. They are easier to apply than traditional band eyelashes and are a great way to enhance beauty by adding new dimension to your eyes. The shorter length is perfect for a natural and fool-proof application as they can be worn for every occasion..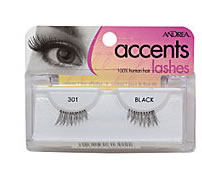 Love the touch of easy to apply Accents lashes provides? Also try LITTLE BLACK DRESS (DOLL) FALSE EYELASH COLLECTION for more half lashes selections.